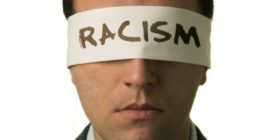 On the 22nd of March, around 7 p.m., in a little street next to Trieste St. in Rimini, in front of the A&O supermarket, a 39-year-old Italian man violently attack a 25-year-old Nigerian asylum seeker, who often helps people to empty the truck in exchange of few coins.
Before the Italian man insults with racist phrases (like "Negro shi…, go back to your home"), then he punches him, and finally, he pulls out a knife and stabs him in the abdomen. When the young Nigerian try to escape and to get safe, the aggressor takes his car and follow him, after he tries several times to invest it and crush it against two vans parked in the street, and then he leaves him on the ground almost lifeless.
After the incident, the aggressor, with several criminal records, was tracked down and arrested for attempted murder aggravated by petty and "racial" reasons. In the car, the police found the knife used to hurt the boy, still bloodstained.
The young man shows multiple fractures, a ruptured spleen, and various internal bleeding. Fortunately, he overcomes the night, and he is now in intensive care at the hospital. His condition is critical but stable, as reported by the doctors, but they still don't melt the prognosis.
Waiting to know the conditions of the young Nigerian, the City Council, in a press release, says that "in the coming days, they are arranging a large demonstration against racism… to give a voice to that Rimini who works for the inclusion and coexistence". In the meanwhile, the commissioner of Rimini, Maurizio Improta, expresses its solidarity for what happened and says he will evaluate the issuing of a residence permit on humanitarian grounds.
Unanimous the conviction of the local political world. Although, today, like last summer in Fermo, and like as in many other similar cases of racist violence, it's not enough only to get angry, it's necessary to react.