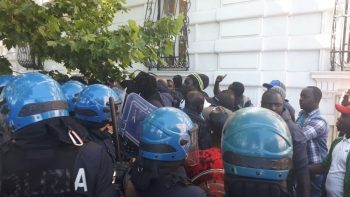 Yesterday in Rome a man died. His name was Niang Maguette and he was 54 years old. He was originally from Senegal. For thirty years in Italy, he worked as a peddler. He died on the sidewalk at Beatrice Cenci street, at the entrance to the Jewish Ghetto.
He lost his life for causes to be clarified, during a city police operation against abusive trade, conducted in the area around the ancient Fabricio Bridge.
The dynamics of the death are still unknown. A boy belonging to the senegalese community has declared that police operations begun at 11:00 am in the morning: two cars of the Municipal Police approached the group of peddlers who fled, yet returning to the place after half an hour and finding the body of the man on the ground. "When the ambulance arrived, he was already dead. As long as the ambulance arrived, no one covered the body, no one arrived: like a banality". Talking about the behaviour of the police men, the boy say: "They gave us 15 minutes to go away. This impressed me a lot: when there is a sorrow, there must be time to embrace, to speak, so the pain goes a bit away. They did not even leave us this time".
The dynamics of the facts must be clarified. The deputy prosecutor opened an investigation file for guilty murder, waiting for the Municipal Police information and the result of the autopsy on the body. But it's a fact that the man died during or following an action of the Police, as it's a fact that a lifeless body was left on the ground for hours.
According to the chief of Rome's City Police Antonio Di Maggio "there has been no direct involvement between the action of the Police and the death of the man". Meanwhile, on Facebook, Police write about "six administrative sequestrations", talking about "an illicit absence of authorization and a problem for urban respectability" and attaching the photo of the seized goods. Not a word about the death of the man.