The following table and infographics offer an overview of verbal and physical violence, property damage and xenophobic or racist discrimination documented by Lunaria thanks to reports received from victims, witnesses, other associations or press reports.
These cases are summarized in our online database freely accessible here: https://www.cronachediordinariorazzismo.org/il-razzismo-quotidiano/.
Between January 1, 2008 and March 31, 2020 the documented cases are 7,426, 7,267 if we stop at December 31, 2019.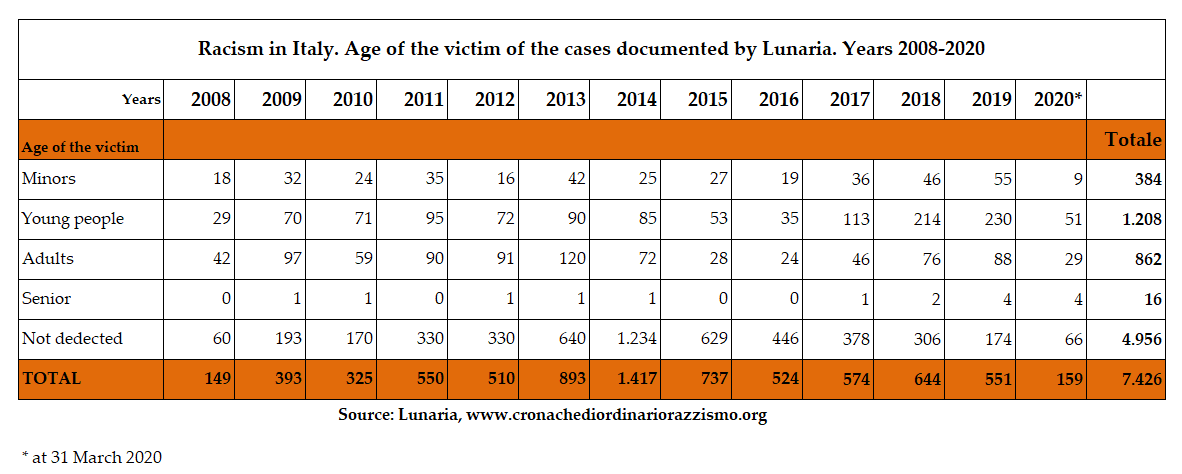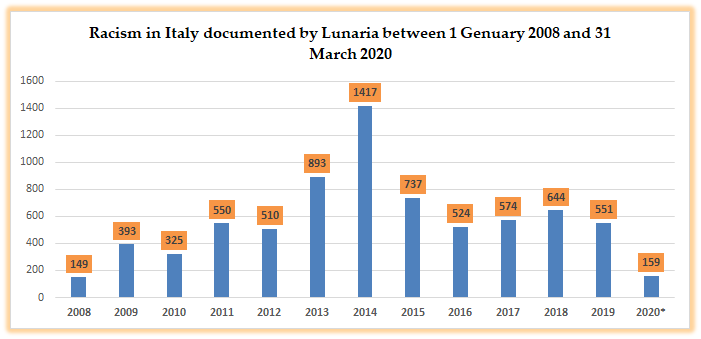 Given the partiality of the data on 2020, we represent here in graphic form the data on documented cases up to December 31, 2019: these are 7,267 cases that include 5,231 verbal violence, 883 physical violence against the person, 169 damage to property and 984 cases of discrimination.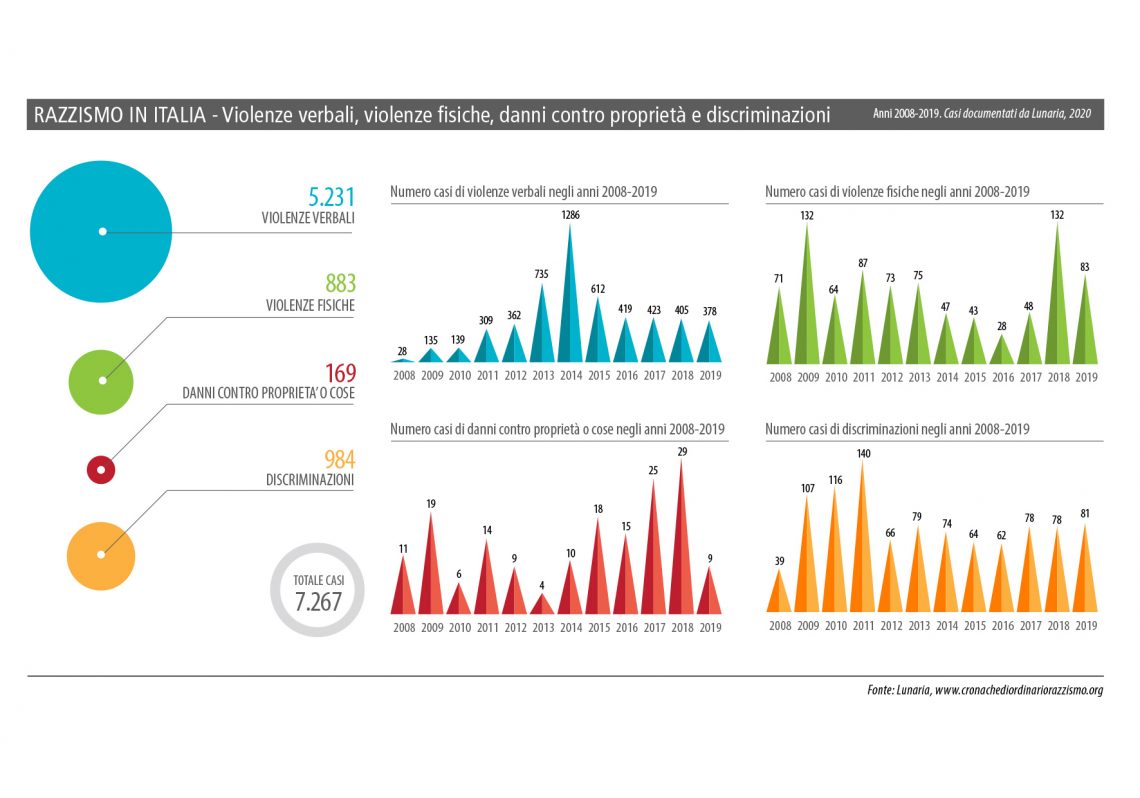 Among the verbal violence prevails the 3,670 cases of discriminatory propaganda. The tools used are different: from network channels (sites, blogs, social networks) to verbal statements, from banners to posters; some cases of incorrect, violent and explicitly discriminatory information are also documented. These are accompanied by 1,128 cases of offenses, threats or verbal harassment pronounced by individuals, while there are 433 different forms of public demonstrations (marches, garrisons, collections of signatures) that have chosen migrants, asylum seekers and refugees as targets.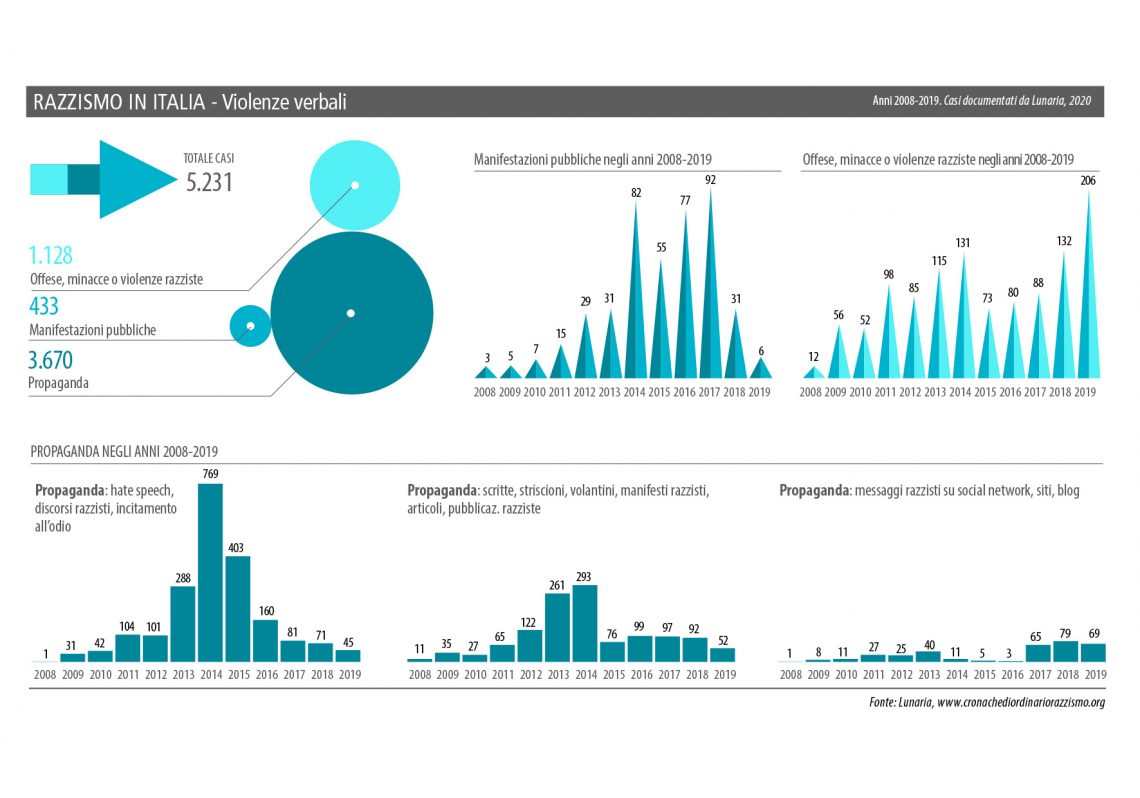 The most worrying data concern the 883 physical violence against people and the 169 damage to goods or property related (or traced) to the presence of foreign citizens.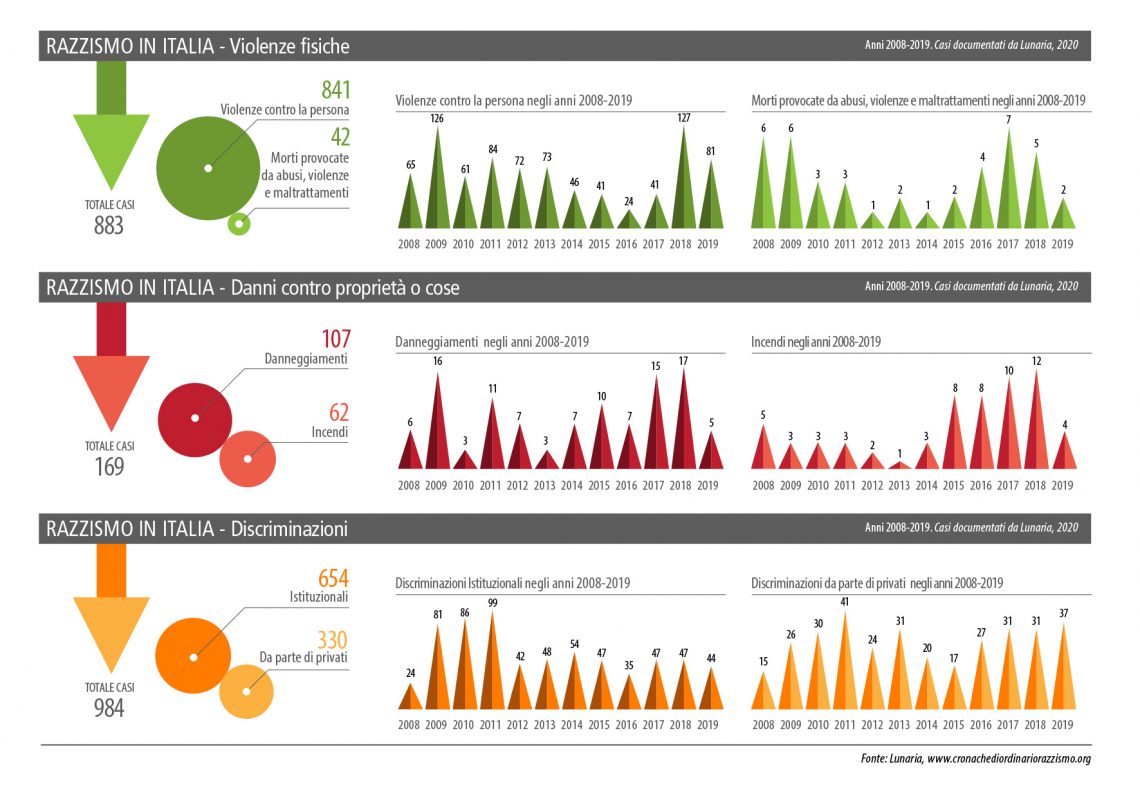 Although the data on the cases documented have no statistical representativeness, Lunaria highlights the anomalous recurrence of physical attacks, carried out individually or in groups, documented in the two-year period 2018-2019 compared to the years 2012-2017. The years 2009 and 2018 are the worst in the period considered, at least through the lens of our observatory. Perhaps it is not irrelevant the analogy between the tones, themes and "arguments" that have crossed the public debate on migration in both years.
Among the 984 discriminations found, in 654 cases, those responsible are institutional actors (political or administrative). This is also a number that should not be underestimated: it shows us how much still needs to be done to prevent xenophobia and racism even in those places that should be at the forefront in preventing and fighting them. On the other hand, there are 330 documented discriminations committed by private citizens.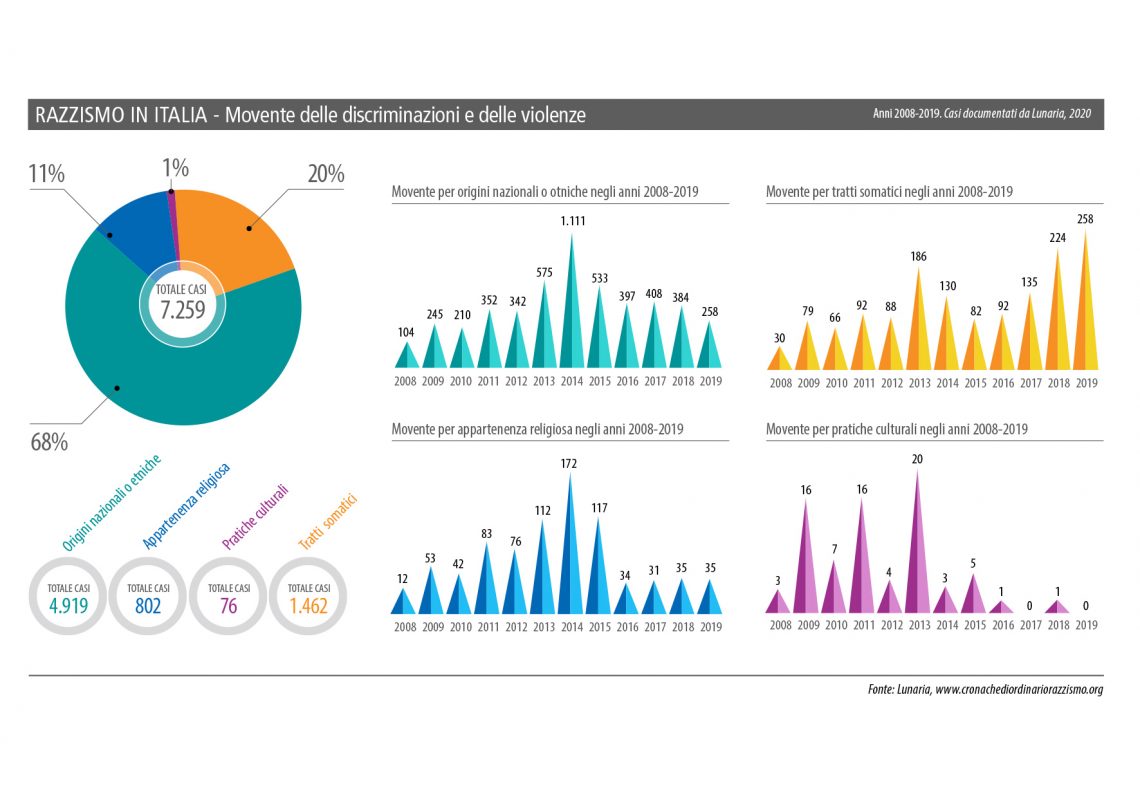 The analysis of the discriminatory motive, found in 7,259 cases, shows that national or "ethnic" origins are the most recurrent motive of discrimination and racist violence documented by us (68%), followed by somatic traits (20%), religious motive (11%) and, in residual form, cultural practices (1%). It should be noted that somatic traits have increased their relevance in the last three years of the period considered.