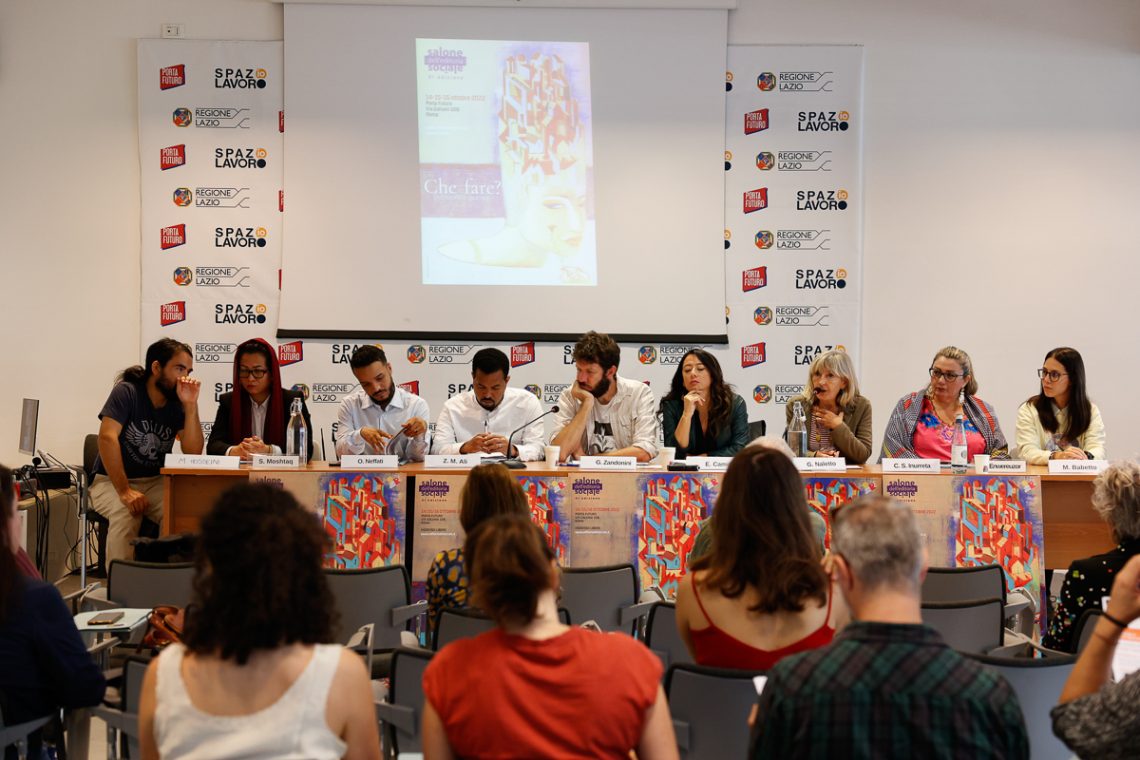 How do communities of migrant origin represent themselves, tell their stories and which spaces do they use to tell them, leaving behind stereotyped, neo-colonial visions…? What role do the media play, what kind of narrative do they amplify, what are the positive and negative examples used to represent a community, or their instance? How to involve those who are part of these communities and the 'Italian' associations that deal with rights (without being phagocytised by them). Which battles need to be focused, to seek alliances, to question balances?
These were the questions raised during the event 'Activism and Participation' organised in Rome by Lunaria in collaboration with the association Gli Asini within the framework of the Social Publishing Fair. The meeting, coordinated and facilitated by journalists Eleonora Camilli and Giacomo Zandonini, involved as speakers Zakaria Mohammad Ali – Archivio memorie migranti, Mary Babetto – Occhio ai media, Udo Enwereuzor – Cospe, Claudia Solana Inurreta – Trama di terre, Sediqa Moshtaq – Associazione di solidarietà donne per le donne, Omar Neffati – Italiani Senza Cittadinanza.
Belonging, community, debate and collective spaces of one's own, an alternative and independent narrative from the one that tends to prevail in the mainstream media, such as the autonomous political agenda, not conditioned by parties and institutions, were the topics at the centre of the debate that followed the presentation of Lunaria's work during the BABI (Better Advocacy for Better Inclusion) project.
Building an alternative representation of migrants and racialised minorities is possible, as mentioned by Mary Babetto of Occhio ai media, by unravelling the mechanisms of criminalisation and constructing one's own narrative, thanks to systematic media monitoring on the one hand and the production of self-narrative tools on the other.
"Having a space means having a power," remembered Zakaria Mohamed Alì of the Migrant Archive, pointing out that 'creating community' is not easy. Referring to his community, the Somali community, Zakaria evoked the distance existing between the experience of the first migrants who arrived in Italy by plane freely (vikings) and that of the people who have arrived in the last twenty years, forced to cross the desert and the sea risking their lives (titanic). To facilitate exchange and solidarity, the Somali Cultural Association was founded, a Whatsapp group of about 300 people living in different Italian cities was created and the organisation of the Somali Culture Week was promoted.
A different experience lived by Udo Enwereuzor, of Nigerian origin, who came to Italy to study. After his experience with the Association of Nigerian Students, with the Association of African Students and with the birth of the Africa Insieme association in Pisa, he chose collective political action within a pre-existing organisation, Cospe, linked to development policies, rejecting the form of community organisation, favoured at some stages by national institutions.
A similar choice is made by Cristina Inurreta, vice-president of Trama di terre, a historical anti-racist association in Imola, founded by a group of women of different national origins. Claudia's invitation is to speak of 'community' in a broad sense, considering as a central element that of belonging to a group, to a collective, 'the will to do together'. "The us/them contraposition does not work" and "everyone needs to take responsibility: who steps in school to prevent forced marriage? We need training for teachers and information on rights for students."
The distorted portrayal of migrants was also discussed by Sediqa Moshtaq – Women's Solidarity Association for Women, which arrived in Italy in the summer of 2021 and is interested in networking Afghan diaspora women living in Italy, but also in maintaining relations with women who have remained in Afghanistan, working on sexual and reproductive health education and psychological assistance. Sediqua recalled how many of the Afghan women who have arrived in our country are highly qualified and wish to build a career path corresponding to their level of education.
For Omar Neffati, of the Italians Without Citizenship movement, the construction of a new narrative of the many young people of foreign origin living in Italy passes through the telling of their stories and the elaboration of a new political agenda more independent from that of the parties. In some ways 'with Meloni: nothing has changed for us': the reform of the citizenship law, which has been awaited for many years, did not happen, even when the majorities had a different colour. 'We must not stop, we must build our own agenda, our own country proposal and our own idea of citizenship'.